The Festival of Sleep Day is Coming - Bedzzz Express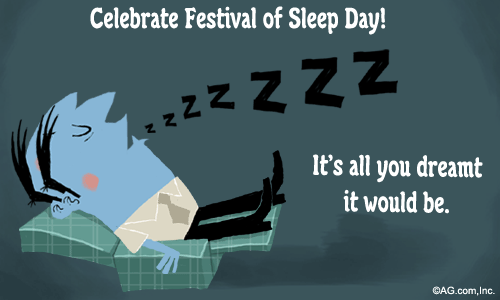 No, you're not dreaming. There really is a holiday known as Festival of Sleep Day. It was a week ago, January 3rd, the day each year when people everywhere spend some extra time (or all their time) sleeping!
You probably celebrated without even knowing it considering the fact that it's just all about sleeping.
Sounds pretty simple, but it's really pretty smart. The holidays are over, and most of us are still dragging from all the parties and events of the last few weeks. A few extra hours devoted to sleep is definitely not a bad idea.
Some people actually took off from work so they could sleep all day (unfortunately, this "holiday" isn't recognized by many offices, business or corporations. Not yet, anyway!), while others stayed in bed a little later, went to bed early or tried to find an extra hour or so during their day to take a nap.
The origins of Festival of Sleep Day are unknown. Whoever came up with the idea would probably be famous if we knew who they were! No one's sure when it started or how long it's been going either.
While we obviously can't sleep all day every day, our suggestion is that we try to let every day be our own festival of sleep day, making sure we get to bed on time and doing everything we can to really enjoy the wonderful activity that is sleep.